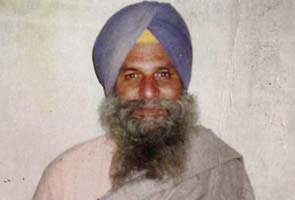 Indian prisoner Surjeet Singh was released from Lahore's Kot Lakhpat jail after over three decades in captivity Thursday and reached the Wagah border on the Pakistan side on his way back home, officials said.
Surjeet would walk into India after Pakistan authorities completed all formalities, Border Security Force (BSF) officials here told IANS.
"This can take up to two-three hours," one BSF official said.
He was brought to Wagah, which falls in Pakistan, in a police prison van.
His family, including son Kulwinder Singh, were waiting on the Attari side of the joint border checkpost.
"We are very happy that he is being finally released. We will have big celebrations," Kulwinder Singh, who arrived here early Thursday morning with family members, relatives and villagers, said.
Attari, 30 km from Amritsar city, is the border checkpost on the Indian side.
The Pakistan authorities are also likely to allow 311 Indian fishermen to walk back to India after their release from Karachi prison Wednesday. Most of the fishermen are from Gujarat.
They were in Pakistani custody for periods ranging from a few months to three years after they were accused of violating Pakistan's territorial water off the coast of Gujarat.
Surjeet, 69, spent over 30 years in Pakistani jail after being arrested on charges of spying. He completed his life term in 2005.
His family in Phidde in Ferozepur district are eagerly waiting for his return.
"We are all very eager to receive him. We will make him very comfortable here," Surjeet's daughter-in-law said.
Addressing reporters outside the jail in Punjabi, Surjeet said he had been arrested on charges of spying and would not return to Pakistan because he might be accused of the crime again.
The 69-year-old, who spent over 30 years in Pakistani jails after being arrested on charges of spying, walked out of jail to a battery of camera crews waiting to interview him.
Surjeet, who now has a flowing white beard, said that he was looking forward to meeting his family — waiting excitedly across the border in Attari in the Indian Punjab to welcome him home.
He had completed his life term in 2005.